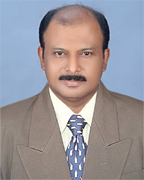 I bring forward this invention as a Socio-Scientific service for the entire mankind. I strive to put the Nine inventions - conceived in my mind for several years - into practice. For this purpose I open this Web Site and I hope this will be highly beneficial if it is purposefully brought into practice.

My inventions available in this website may be taken by everyone who are interested in scientific research and these may be developed and utilised by themselves .

To undergo research activities, satisfy his life and experimented think in a broadminded, full of confidence, and meditation helps a lot. For research, its better to have one's own idea is important rather than referring others published works. Based on another one's research books, research can be carried out out based only on his limitations. On such occasions, one's self idea is relatively low.

Science & Technology

Hence, persons interested on research has to present themselves what they think and if possible present it to rectify the problems so that they can understand that a will power exists on their self. That power may be developed so that everyone can utilize it.

A person who works for his own and for his family has to spend the same time for the country in any way. When he finds himself to serve for the nation, he attains faith and courage in his life.

Clarity of thought, Courage, hard work, confidence, humanitarianism. He who makes these the "Whole of his life" can accomplish anything in life. This is what the Lord preached to the people and expected of the people.

I am thankful to god for giving me different kind of knowledge and also for giving me continous oppurtunities for familarising with international scientists .


American Physical Society
European Physical Society
Indian Science Congress