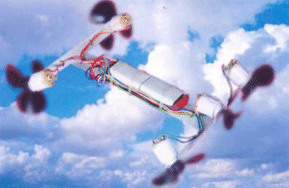 The above mentioned project is designed by me. The motors attached here in front and rear are slanted in 45 degrees. Also another motor is fitted back straightly. This machine flies high from ground level at certain height.

On behalf of my scientific social service programme, this project has been submitted keeping in mind for the researchers to submit their thoughts and ideas. Researchers can share their views and suggestions towards me. For this, national/international researchers are invited to share their suggestions. Researchers can send their views and ideas through courier to my address. Individuals or organizations can participate all the projects available in this site.

Those who share their specification and functions will be added in suggestion page of this site. As such, please provide us with your correct address for us to proceed.